David Light, national sales manager for retailer Captn`s Pack Products, explained that the design patterns of the new Tai Tai frozen microwave packages are mainly aimed at younger groups of "food adventurers" or "those who are willing to taste different flavors and exotic dishes. People, who combine authentic Thai flavors and western marketing strategies, said: "Through the trademark style, it can be seen that the positioning of the production line is mainly for the mainstream market, not just Thai restaurants. ""But this is a bold attempt to enter the dining area. "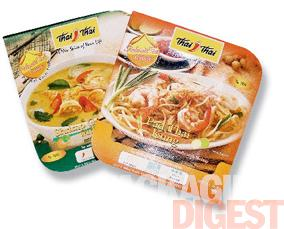 Thai Tai's products are produced in Thailand by CP Foods-Aquaculture Business. According to Light, the company is the largest protein production company in Asia. Since September last year, CP Foods' US sales subsidiary, Captn`s Pack in Columbia, Maryland, has introduced five types of soup, curry, noodles, and fried frozen food products from this line into the US retail market, including Wal-Mart. Supermarkets, Shaw`s Supermarkets, Acme Markets, Harris Teeter, and Safeway will soon enter. Because the United States has regulations prohibiting the import of pork and chicken from foreign countries, the main raw materials for the five products sold here by CP Foods are shrimp. These include Thai fried noodles (stir-fried noodles with shrimp), green curry shrimp with rice, red curry shrimp with rice, sweet and sour shrimp with rice and Tom Yum Goong (Thai shrimp soup). Light added that they will be introducing another two new products in the third quarter of this year.
In order to cater to the needs of American consumers for convenience foods and their growing interest in Southeast Asian foods, Thai Foods is packaged in microwaveable bowls and Asian-style cardboard sleeves. For example, the logo of the product and the pattern of the outer packaging are a small red pepper.
Light said: "People have begun to recognize the pungent tastes of food from Southeast Asia." The peppers on the front side of the packaging are also used cleverly to provide a "pungent scale" for each product. One red pepper means "slightly spicy," while three red peppers mean "heavily hot." Printed on the cardboard packaging are colorful food photos with two right angles and two rounded corners, further suggesting that people are from Asia.
According to Light, Tai Thai products have achieved great success in their early promotion process, including in Asia, Southeast Asia and Europe. He said that in the United States, "retailers have realized that this type of product has great growth potential, and our products happen to be exactly what they need. As for American consumers? Frankly speaking, public display and tasting activities prove us The product is very popular. It is a product that people will love to enjoy."
Light added that the price of this frozen package ranges from $3 to $4.
Source: Packaging Expo

Our Curling Irons are professional performance styling tools designed to help style like a pro for faster, longer-lasting curls. Hair Curling Iron with an ergonomic handle make it easy and comfortable to style with. We are a manufacturer and wholesale exporter of hair curling iron, travel hair curling iron, Professional Hair Curling Tongs, and look forward to your cooperation! If you need to print the logo of your company or your own creative design, please send us your logo to us. Welcome to purchase/customize the Curling Irons products. Please don't hesitate to contact us!
Curling Irons
Curling Irons,Hair Curling Iron,Curling Wand Hot Tools,Curling Wand Iron
Gold Beauty Limited. , http://www.goldbeautyltd.com