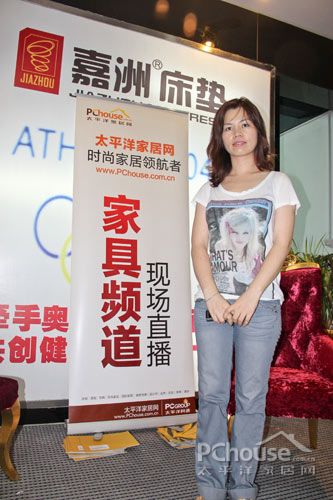 Tiffin Roland Home General Manager Yang Qingxiang

People-oriented comfort and health is the most important

[Reporter]: More and more women are now playing an important role not only in the family, but also in their favorite careers. You can say that it is a model of modern women. So, in terms of balanced development and grasp of family and career, do you have some good suggestions that can be given to our vast number of netizens?

[Yang Qingxiang]: At this stage, I still put most of my time and energy into my career. I hope that I can use my own efforts to create my own business at this stage, because I think that a woman with a career is the most beautiful and The most attractive. Of course, in the future, I will have my own family. I will divide my energy and time into a happy home, be a happy woman, and make my career and family correct. I think that life can be regarded as one. Kind of happiness.

[Reporter]: For the home, women often have natural sensitivity. In your opinion, what is the most important thing in doing a good home business? Jiazhou mattress is mainly used to understand the thinking characteristics of consumers. Spiritual needs?

[Yang Qingxiang]: Comfort and health are my most important things when I am engaged in home business. After years of contact and understanding with distributors and consumers, Jiazhou mattresses have drawn the concept of "people-oriented". Dreyfus, a contemporary American designer, is quite right: "Leave a loved one, Respecting people's goals, the design will deviate from the right direction." "If the product blocks people's activities, the design will fail; if the product makes people feel safer, more comfortable, more effective, and happier, the design will succeed. "Jiazhou wants to design and produce a healthy sleeping pad that is suitable for everyone, and everyone can afford it. I think this is the mission of Jiazhou."

Adhere to the concept of providing better products and services

[Reporter]: What role did you play at the beginning of your business? What do you think is the most difficult or most touching thing in the change of the big environment in 2011?

[Yang Qingxiang]: When it comes to entrepreneurship, it is a treasure of my life. My identity is the boss, the production worker, the office worker, and sometimes even the delivery worker. What makes me most impressed in 2011 is that the more difficult it is, the more we must adhere to our own ideas. When we see many speculative business practices in the market, I think I should stick to the mission of Jiazhou for consumers. Provide better products and services, and do the industry's "first brand of healthy mattresses".

Comply with physical and mental needs to interpret healthy home life

[Reporter]: French materialism has a view that people are the product of the environment, and that the environment in which people live has a strong shaping effect on people. So what do you think is the modern environment for the modern people to benefit their healthy life?

[Yang Qingxiang]: Modern people are too stressed and work too fast. The home is undoubtedly the best place to rest and relax. The good home environment should at least be comfortable, relaxed and warm. Conducive to their healthy life.

[Reporter]: Nowadays, we are advocating "healthy home life". Can you give an example to explain how Tiffin Roland achieves a healthy home life?

[Yang Qingxiang]: Let's take a look at the full-washing mattress of our company, you want to sleep on a mattress that is completely designed according to your own physiological characteristics and selected according to your own preferences. Whether it is physiological or psychological, it can fully satisfy the individual's wishes, and this sleeping pad is completely environmentally friendly, can be disassembled and rinsed, so that consumers can enjoy a comfortable and healthy sleep while maintaining physical and mental comfort. I think there is nothing better than this. More important.

[Reporter]: Have you considered the problem of growing children from the product to solving the urban family?

[Yang Qingxiang]: In fact, we have been doing it all the time. Jiazhou has a mattress for adolescents. It is Jiazhou's development from the child's physical condition. It is designed for children and hopes to be done in the growth of the child. Do what you can.

[Reporter]: Ok, thank you very much for accepting our interview!
Luggage Suitcase,Nylon Oxford Fabric Luggage,Nylon Oxford Fabric Suitcase,Oxford Fabric Zip Luggage
Yongxin Juanhua Leather & Bags Co., Ltd , https://www.luggagegld.com